How to Add Music in iMovie

By Airfix Music TeamAugust 4, 2020
If you're on a Mac computer, an iPhone or an iPad, iMovie can be a great free solution for any beginner or pro user looking to make great videos using minimal equipment. Adding great music to your sequence will help you to enhance your project. Here is how you can do it and what you need to know.
How to add music to iMovie on a Mac device

Choose your favorite track.

You can browse and pick a song from your iTunes library located in the Audio Menu.
You can choose any audio file located on you local computer storage. iMovie supports .wav, .aif, .mp3, .mp4.
You can also download a royalty-free song from a platform like Airfix Music.

Open your iMovie project and drag your file into the timeline.
Edit your song to keep the section your want. Split the clip using the short cup (cmd + B). Adjust the level by adding points onto the level line and moving them louder or quieter to make automation. Finish your edit by adding a fade-in and a fade-out at the end and the beginning of your project.
How to add music to iMovie on an iPhone or iPad device

Browse your music selection options from the audio menu by using the + button.
On mobile-only, you can browse the built-in soundtracks library in the Soundtracks menu.
You can select a track from your iTunes library located in the My Music menu.
You can also pick a royalty-free track from a platform like Airfix Music by following this path: My Music / Files / Download Folder. Be sure to download the file from you iPhone in your iCloud Drive Download Folder.
Once your file is located, tap on the file, and it will be added automatically in the timeline.
Edit, slip and fade out clips with the tools at the bottom of the screen.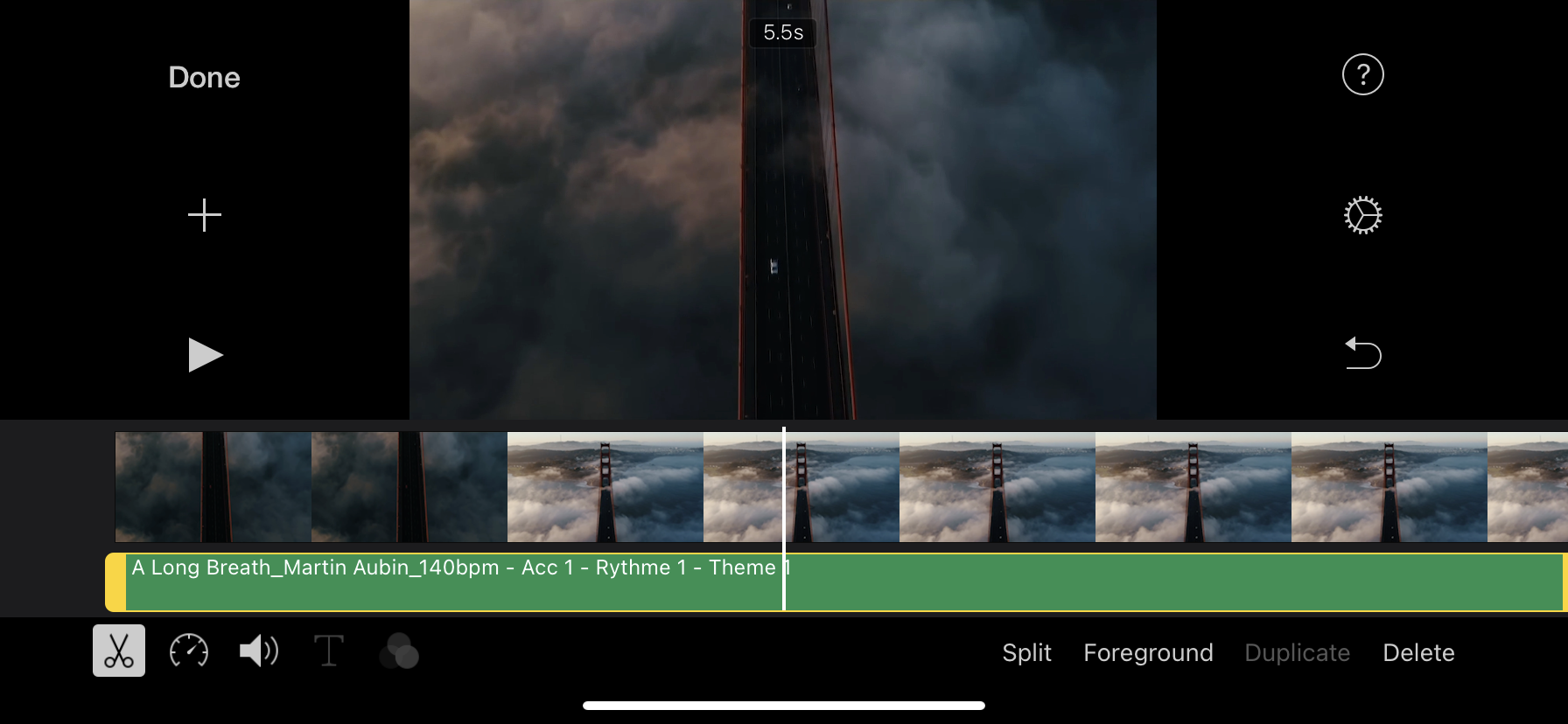 Important to know about the music copyrights

If you want to publish your project on Youtube, Facebook or any other social platforms, we highly recommend using a royalty-free music track. Music from your iTunes is 100% copyrighted and can't be used in a public project without all copyright owners' permission. You can learn more about royalty-free music here. To help you start quickly and avoid copyright issues, you can visit the Airfix Music platform and browse many impressive royalty-free tracks. You can also use the music from our tutorial video for free by following the instructions below.
Use the music from our tutorial video for free.
Use this code: hwyou100
Select this tracks: Here Without You by Mart Music
Don't miss it