5 things you need to know before publishing a video on Facebook or Instagram

By Airfix Music TeamAugust 4, 2020
Since the emergence of social media, the companies behind the platforms we know are constantly improving and multiplying their publishing tools, putting great emphasis on the video media. Preparing and publishing a simple video can be much more complex than one can imagine and you can easily get lost. Here are some tips to optimize video creation and publishing.
How to choose the right format for my video?
You first have to determine what type of video you are looking to create and on what platform you intend to post it. Do you wish to; post on your news feed, post a story or post on Youtube?

The most commonly used format by web users is the widescreen 16:9 aspect ratio. This format was selected as standard because it offers a compromise between the traditional cinematographic plan and the old fullscreen 4:3 aspect ratio we would find on old televisions. It also adapts better to human vision.

If you are watching your favorite music video on Youtube, it is 16:9 format. If you are watching a story on Facebook, Instagram or Snapchat, it is 9:16 vertical format.

Another commonly used ratio for news feeds is the square 1:1 format. It is an interesting format since it covers a larger part of the screen on mobile devices when scrolling down a vertical feed.

Choose the format that best suits your objective and keep in mind to adapt your videos to those different formats to optimize the success of your post.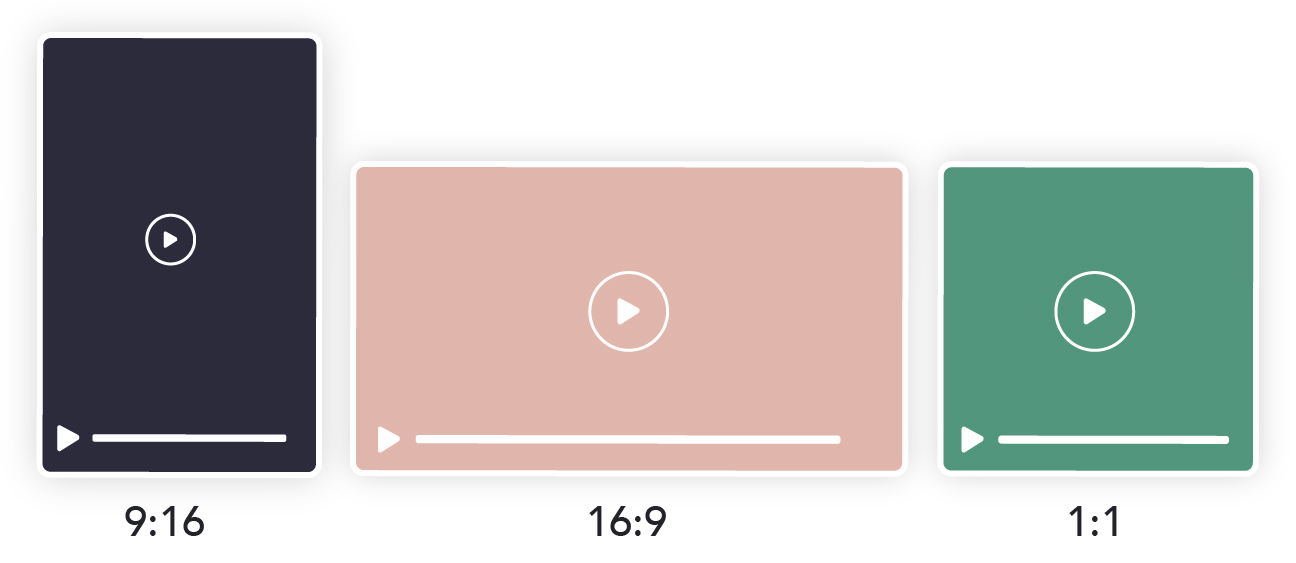 What resolution should I use?
Before anything, let's explain what resolution is. Resolution is defined as the quantity of pixels used horizontally on a screen multiplicated by the quantity of pixels used vertically. For example : 1920 pixels (horizontal) x 1080 pixels (vertical). In this case, the resolution is 1920 x 1080 and the total amount of pixels shown on the screen will be 2 073 600 pixels. So, what makes a high or low resolution image? It's simple: the more pixels there are, the better the definition and the clearer the image.

Let's go back to the question that interests us : What resolution should I use? You should always use images with a minimal resolution of 1280 x 720 pixels for the 16:9 ratio, 720 x 1280 pixels for a 9:16 ratio and 720 x 720 pixels for a 1:1 square ratio. Most cameras and recent smartphones will allow you to film in high resolution.

When exporting the video from a video editing software, you can choose the resolution. For example, if a clip is too big or heavy, you can reduce its size by lowering the resolution.
Which video file extension should I use?
You certainly want to keep the best quality possible, although the size of your file can become a problem. You then need to choose the most appropriate format for your situation. Here is a list of all the video formats supported by Facebook.
MP4/M4V/MPEG4
MPE/MPEG/MPG
DAT (MPEG Video)
TS (MPEG Transport Stream)
AVI
WMV/ASF (Windows Media)
DIVX
MOV/QT (Quicktime)
MKV (Matroska)
F4V/FLV (Flash)
VOB (DVD)
3g2/3gp/3gpp (Mobile)
DV
ogm/ogv (Ogg Media)
NSV (Nullsoft)
MOD
M2TS
MTS (AVCHD Video)
TOD
To share your video on Facebook, Instagram, Youtube and other platforms, MP4 (H.264) is the best choice. MP4 compression has very few effects on resolution and keeps the videos very clear. You will then have a reasonably-sized good-quality file that will be easy to work with and upload everywhere. You can always use another file extension, but Facebook and Youtube will transcode any uploaded video in H.264.
Frame rate
No matter what platform you wish to upload to and post on, you should never set your FPS (Frames Per Second) under 23. Below this number, human eyes will perceive the images as jerky. You then lose quality, except if it is the desired effect.
Some tips to help you manage your posts
Use Creator Studio, the Facebook management tool. The user interface is really useful to manage and plan your posts. You will find many useful insights on your activities like the number of views, stats, details on your audience, your prime posting hours and more…
Give your video a title. Keep it short and catchy.
Use your stats to schedule your posts on your busiest days and times. The management tool also allows you to backdate or change the date of your posts.
Choose a nice thumbnail that will appropriately represent your video in your library. More importantly, this will help catch your followers' attention as they scroll down and will make them want to hit the ``Play`` button. If you don't like the thumbnails suggested by default, customize it by uploading your own image. Always choose an image with little or no text. Facebook sees images with text as a bad user experience and this can affect the visibility of your video, as well as its reach and number of impressions.
Incorporate subtitles. They will allow people to follow the content of your video when scrolling down their feed with the sound off.