The sound quality of a virtual acoustic drum is a challenge in home music production.
The sound quality of a virtual acoustic drum is a challenge in home music production; especially in organic styles where the subtleties are substantial. Details like velocity, attack, leaks, depth, imperfection, cymbal release, toms and hi-hat are all factors that need to be controlled to properly integrate the instrument into a composition. Let's see a preview of Addictive Drums, one of the best professional virtual drum plugins.
Addictive Drums
Addictive Drums by XLN Audio stands out for its simplicity and the quality of its drum sets. The full version offers a variety of 21 sets, each containing 10 to 20 presets as well as 32 midi packs, each including very large playing selections. The interface has 5 main pages, allowing you a quick and efficient control of the instrument and its environment. If you want to integrate your drum quickly without having to go too far into the settings, Addictive Drums can be a good choice. Let's see a preview.
The Gallery Page
The Gallery Page is an interesting place to start to quickly choose the drum set you are interested in. To start your search, I recommend you have a quick listen to the different drum sets with the addictive player. For a more specific search, you can use the browser to add some filters and narrow down the results.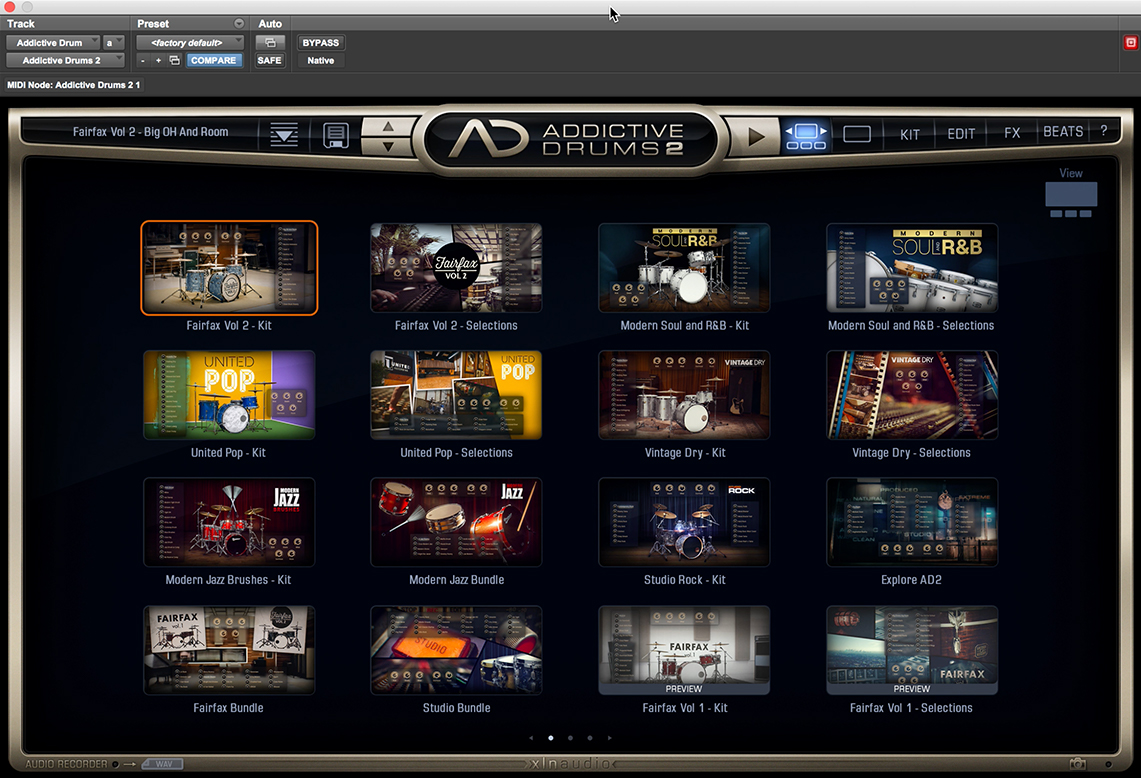 Beats Page

Once the drum set is selected, you can use the Beats page to find midi files to start building a pattern. You can use the different search options to target the desired genre or style. You can also use the beat or fill checkbox to filter the pattern you are looking for. Once you have found a beat you like, simply drag and drop the file into your DAW to start editing.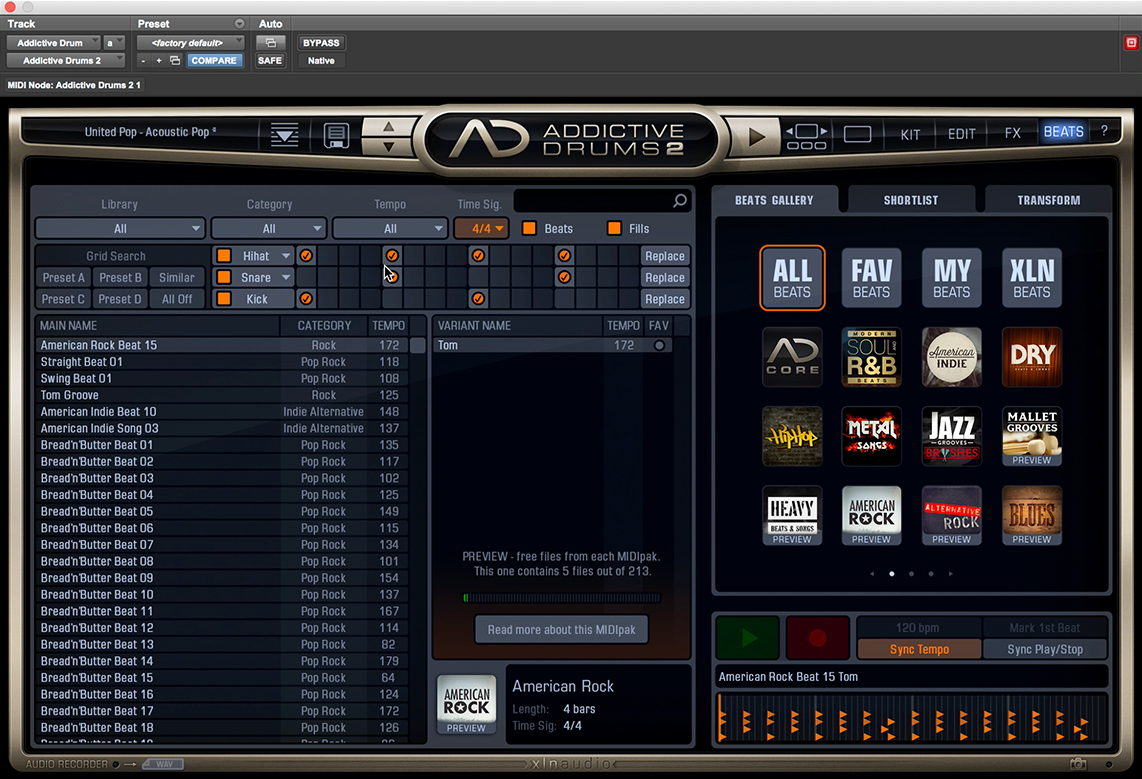 Edit Page

The Edit page is a very user-friendly page where you can easily take control of your drum set. You can use the mixer to adjust the levels of each drum source. It is possible to control separate mix volumes from a source you want to send into the overhead or room microphones. You can also control other settings like response, volume envelope, microphone noise, compressor, equalizer and the sound shape.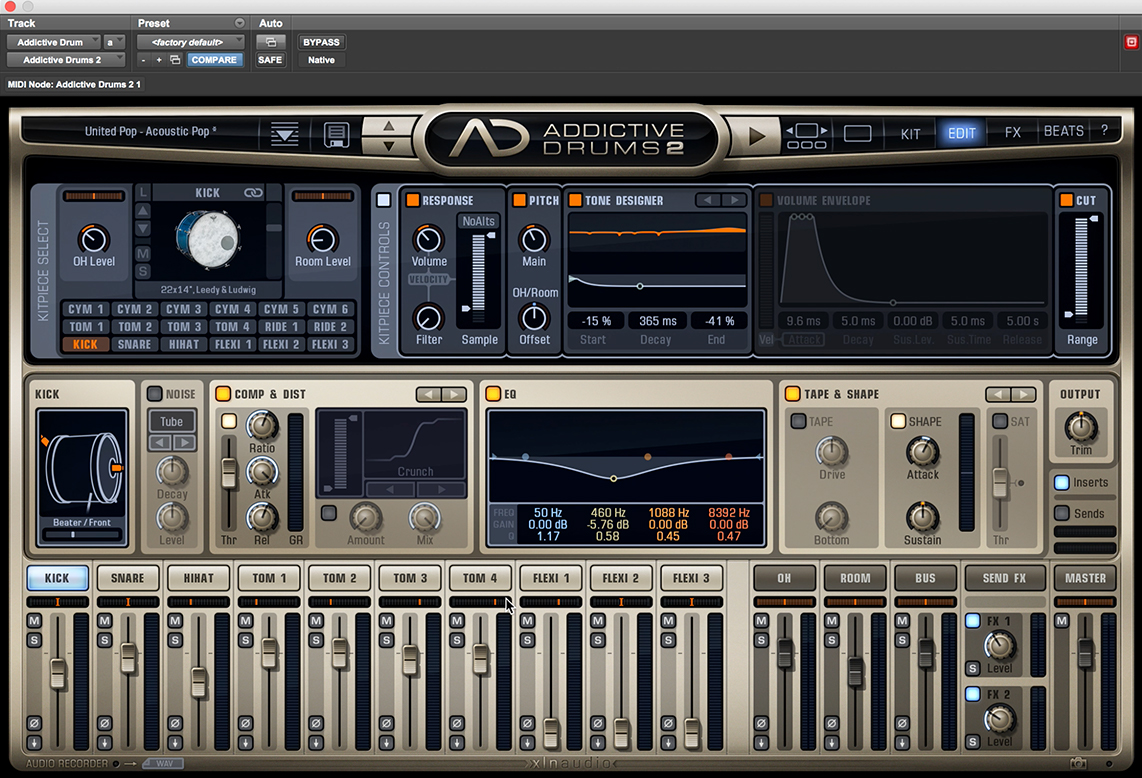 Effects Page

Finally, there is an effects page where you can add a reverb and delay into your mix. It is very simple to use. You can also bypass the intern mixer and configure multitrack outputs to your DAW mixer. Read this article to see how to do it.